Media Day, Flight & Interviews

| | |
| --- | --- |
| Canadian Forces CH-146 Griffon | Source: Brian Teepell USPA 14 News |
"THE SWEAT EAST"  BEST REVELATION AWARD
Responsible Author: Jedi Foster, Rahma Sophia RACHDI | Paris, Washington DC, 09/09/2023, 23:54 Time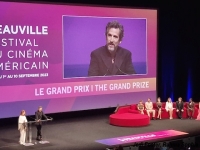 USPA NEWS -
The Jury of the 49th edition of the Deauville American Cinema Festival, chaired by Guillaume Canet, has finally deliberated and revealed the names of the winners of this pre-fiftieth edition of this American festival in Normandy.
Thus during the closing ceremony of this festival which began on September 1, 2023, until today September 9, 2023, it is The film LAROY, directed by Shane Atkinson (winning prognosis by our correspondent on site), which won three prizes, followed by THE SWEAT EAST, in the second award Prix de la Revelation. The Festival trophies are created and produced by the artist Karl Lagasse.
Our correspondent having viewed, on site, 13 of the 14 films in competition, had sensed LAROY, winner of the Grand Prix, as soon as he left the cinema, and that he was THE film which stood out from the others directed by Shane Atkinson .. A few days later and lively debates between the members of the Grand Jury chaired by Guillaume Canet, deliberate with two award-winning films, according to the Jury President's own arguments.
Warbirds Over Debert - Part 1
Responsible Author: Brian Teepell | Debert, Nova Scotia, 09/02/2023, 23:29 Time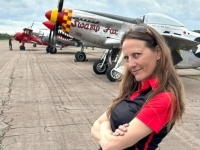 USPA NEWS -
For many who reside in Atlantic Canada, the summer is not complete without attending an annual Air Show. Since the early 80's, there have been many thrilling productions that keep spectators wanting more. The 2023 Air Show Atlantic Warbirds Over Debert certainly held true to the tradition and did not disappoint. Even though Mother Nauture caused some challenges, Air Show Atlantic made the necessary changes and was still able to produce breathtaking air displays to the delight of many enthusiastic fans.
| | |
| --- | --- |
| | RAHMA-SOPHIA RACHDI |
| | Daren Frankish |
| | Ruby BIRD |
| | Aurangzeb Akbar |
| | Yasmina BEDDOU |